2003
Manisha has been focused on completing her debut album, Peace in Progress. Please visit the recordings page to hear some samples and find out how to purchase a copy! Additionally, she joined Chorus pro Musica at the beginning of this year; please visit the CpM website for ticket and concert information. For upcoming manishamusic performances, please see below.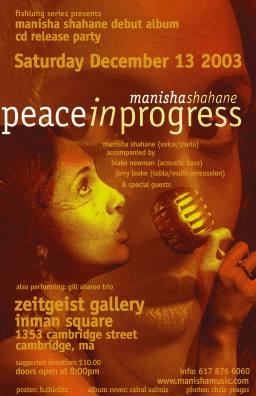 Events are listed in reverse chronological order. The schedule below is subject to change.
Please contact Manisha for more information.
[Click here for information on selected venues]
This page was last updated on November 14, 2003.

~ Saturday, December 13 – CD RELEASE!!!
Zeitgeist Gallery, 1353 Cambridge Street, Inman Square, Cambridge, MA, 617 876 6060
Doors will open at 8:00pm
Show begins at 8:30pm
To celebrate the release of her debut album, Peace in Progress, please join Manisha Shahane (voice/piano), Blake Newman (upright bass), and Jerry Leake (tabla/multi-percussion) for a couple of sets of manishamusic, including appearances by special guests Regie Gibson, Ron Murphy, Carrie Cheron, Peter Dutton, Frank Wilkins, and Manisha's parents! Following Manisha's sets, you'll have a chance to hear a closing set by Fishlung Series curator and pianist Gill Aharon, bassist Blake Newman, with a duo of drummers: Eric Rosenthal and Will Buchanan.
p.s. Four of the 11 tracks on the album were recorded on the Kawai 7-foot grand piano now residing in Zeitgeist Gallery.

~ Thursday, November 20
Somerville Arts Theatre, 55 Davis Square; Somerville, MA, (617) 625-4088. Go to Davis Square T Station
6:30 pm (doors open at 6:00)
Tickets: variasians@comcast.net

Insurgent Voices: The VariAsians will be hosting a special fundraising concert to raise funds for their newly established Asian American Arts Scholarship. This Scholarship was established by the group to support young Asian Americans who are interested in pursuing studies in the performing arts. Numerous bands and singing groups will perform in a variety of styles.

I'll be on with Jerry Leake (tabla/multiperc) and Blake Newman (upright bass) during the second set which begins at 8:45pm, so please come join us for the entire program or for the second set at least!!! Some of the performers' bios may be found at www.variasians.com/concert.html.
Directions: www.somervilletheatreonline.com

~ Sunday, November 2
Lizard Lounge (Cambridge Common is upstairs), 1667 Massachusetts Ave, Cambridge, MA 617-547-0759 9:00pm, I'll be the featured performer during the poetry jam with the Jeff Robinson Trio

~ Saturday, September 13
Zeitgeist Gallery
1353 Cambridge Street, Inman Square, Cambridge, MA, 617 876 6060
Zeitgeist Second Annual Piano Festival
Entire program runs from Noon to 1:00AM!
MY SHOWCASE: 3:30pm to 4:00pm
Donation for the festival pass: $10
$5 for children over 4 and seniors, free for children under 5 and dogs

The PianoFest is structured to appeal to different age groups and tastes. The festival pass will also serve as a discount coupon at the neighboring Druid Pub, enabling audience members to drop in and out of the Gallery throughout the course of the day and evening! The program is organized by pianist/composer Gill Aharon. For more information and to view a list of the myriad talents (several of whom I hope to have a chance to hear before I head to Fenway to sing with Chorus pro Musica), please click here

~ Saturday, April 5
4:30pm – 6:00pm, Zeitgeist Gallery, INMAN SQUARE, 1353 Cambridge Street, Cambridge, MA
Across-the-pond collaboration project I: www.manishamusic.com & www.thisistanuja.com

The afternoon will open with a short set of manishamusic. Accompanying myself on piano, I'll be joined by bassist Blake Newman and drummer Matthew Taylor. Next, Tanuja Desai Hidier will read an excerpt from her first novel, BORN CONFUSED. Following the reading, we will jointly perform a rendition of 'Visionary', a song inspired by the book. The program will end with Q&A and book signing. Copies of the book will also be available for sale.

BORN CONFUSED (Scholastic Press; USA 2002; UK, Australia 2003) was recently featured on CNN's program Your World Today, the radio show Voice of America, as well as in December 2002's Flying Starts issue of Publisher's Weekly. The book is a Larry King pick-of-the-week, and has been named an ALA BBYA Book of the Year.

Set largely in the context of New York City's explosive bhangra/Asian Underground club scene, the novel is a multicultural coming-of-age story that follows Indian-American heroine Dimple Lala through a summer that turns her world on its head. The heart of BORN CONFUSED is about learning how to bring two cultures together without falling apart yourself in the process. The book takes its title from ABCD, or American Born Confused Desi, a slightly derogatory term that first generation South Asians use to describe these second generation Americans who are supposedly "confused" about their South Asian background. (Desi is Hindi for "from my country.")

At the suggestion of a common friend, Tanuja and I met for the first time last August on Portobello Road in London, where she is currently based, and that is when we sowed the seeds for our first program together. Please join me in welcoming her back to Massachusetts where she grew up.

Suggested donation is $5
---

Information on Selected Venues

Club Passim is located across from the Border Café in Harvard Square, 47 Palmer Street
Reservations (617) 492-7679, Office: (617) 492-5300.
Open mics most Tuesdays. . .check the club's calendar.

Les Zygomates, French restaurant and wine bar with live jazz six nights per week, in between Chinatown and the financial district, near South Station T, 129 South Street, (617) 542-5108. Manisha often makes a guest appearance on Tuesday nights with the Alvin Terry Trio and various other guest musicians.

Madfish Grille is located on the water in the Rocky Neck Art Colony, the nation's oldest working art colony.
77 Rocky Neck Ave., Gloucester, MA (978) 281-4554.

Rack Billiards Club has indoor/outdoor dining and is located in the financial district near Faneuil Hall at 20 Clinton Street, Boston, MA, (617) 725-1051.

Ryles Jazz Club in Inman Square is located at 212 Hampshire Street, Cambridge, MA, (617) 876-9330, info@rylesjazz.com.

Zeitgeist Gallery in Inman Square is located at 1353 Cambridge St, Cambridge, MA, (617) 876-6060.
(617) 876-6060.